come on admit it, when you saw this, you were pretty excited too...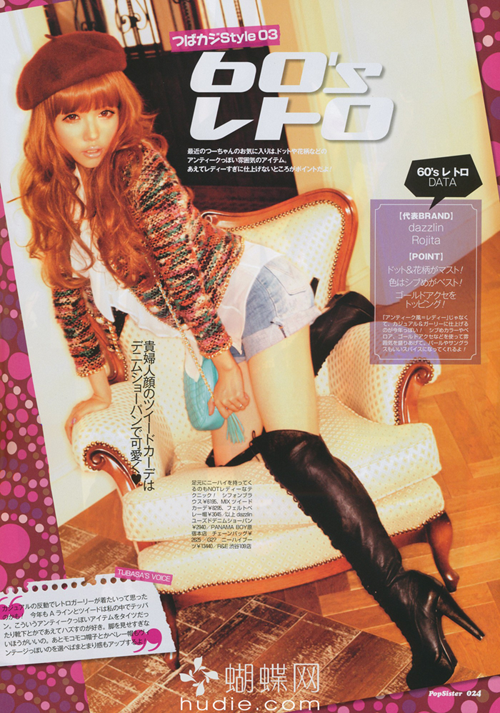 I am so so so happy that gal fashion is getting more and more into 60s and retro fashion. As soon as I saw this in the Oct popsister, I flipped my wig!!
Then I quickly researched the brands used in this brand story
Rojita & Dazzlin
Lets start with Dazzlin since its the firts product used in the first page of the story...I love that jacket Tsubasa is wearing...
Its so loverly, even though it is just a tweed jacket, the use of colors is simply FAB...the whole dazzlin lookbook is adorable. I took some of my favorite coordinates. Everything is all knee highs, sweet hats, and adorable details like bowties, and suspenders.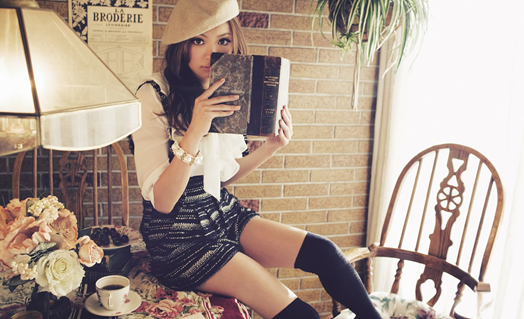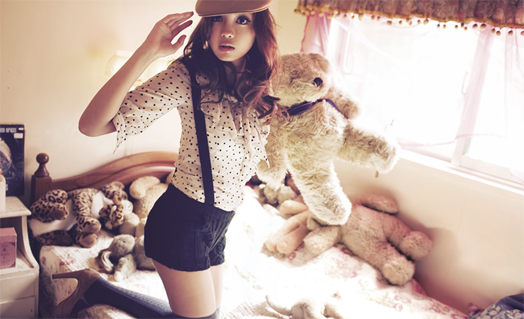 Aren't the pictures just as sweet as macaroons? I really need a newsboy and some grey knee highs. Plus suspenders!! Great thing about labor day is all the thrift stores in Illinois do half price days!!
EVERYTHING HALF PRICE
...i'm definitely going to find some vintage good in recreating these looks!
Also isn't that coat
TO DIE FOR
?
(no not really)
and those shorts are very sweet as well, but with my big booty i dont think sweater shorts are a smart choice...but they are still sweet! Plus, does anyone know this models name? Ive seen her a lot used in Mini and JILLE, and her make is
PERFECT
, be in the looks of me recreating it :D..
NEXT IS ROJITA...
I really loved both brands, If I could I'd buy it all (but both brands are
CRAZY
expensive) Rojita was mainly used on the next page of the brand story...
I feel in
IMMEDIATE
love for the dress in the lower left. It is perfect in every way, I might get this as my birthday gift :D it will look great in winter and fall, I have OTK boots and the visilia hat will be adorable with it as well!
I also spotted this mod dress too. I wish I could try things on first too, they are so expensive I'd hate to buy it and then it doesnt fit DX..so adorable though!
Perhaps I will try mbok, see if i can find them used and CHEAPER...everything here is like 100 bucks at least!!
Anyway, I'm so glad I discovering more about these Brands, it makes shopping easier, when you have brands you love, like Sara Mari with tutuHA. Iwant to discover more. I really like it when brands have a certain look and does not try to apply to everyone. It also makes life easier on the pocket when you have a definite style then trying to buy every look. I'm not saying don't experiment, but you get more coords when you have one look than trying to be rock, mode, sweet, boho, pop, agejo...@_@
anyway, on the final note because I'm really not feeling too well, and I need to sleep more, I got food poisoning, but I'm not surprised. My family and I went to a buffet in a romantic ideal that it would be fun because we havent been in several years. But now we know why we dont go to these gross depots of depressing americana obesity....
YES THAT LIGHTER NOTE...SHOOOOES:
I just got these two pairs! And where both more than 50% off therefore they were both less than 20 dollars each XD!!
Mitsu hated
, but I LOVE THEM! I don't mind that she doesnt like them, everyone has their own style :D (the Gilfy ones are a little snazzier, but i'm sure they wont have my size 40 shoe size..>:( )
Anyway, I'm really tired so, ttyl loves :D