If you did not notice, I do have a slight caring for the fashion world. I mean I was bred & born in it! My father a struggling actor my mom and ingenue fashion designer, together they made something pretty awesome:
me
No I'm really kidding, I'm not that narcissistic (...) but I do think that this crazy world I live in growing up in a mad house of an artist studio did help me understand a few things about art, fashion, and theatre/film.
One thing I really enjoy is incorporating all three...and one person who I admire that does this so well is Wes Anderson...who is just the kind of man we need these days.
I was studying some of his films and realized how cool the costumes are, all the patches of colors in the sea of monotone, it's truly something to marvel at. I decided to take 3 out of the many films he's made and create looks that capture some of the eye candy of the film
What is not to love about this movie, like all Wes Anderson films, he always finds that simplistic way to make you feel uncomfortable, sad, and happy all at the same time. One great character of this is Margot, you have to admit outside of a lovely name, she has some banging style. Feel free to replace the real fur for a faux...and cigarettes may not be your thang, so I did offer the option of some bubble gum sticks, keep in mind, they may not taste as good as they did when you were four....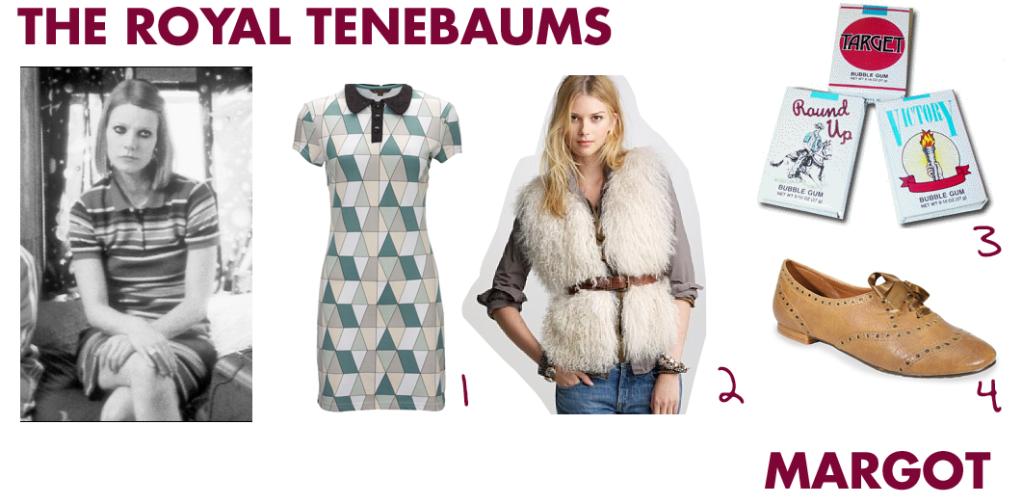 1.hilton pique polo dress-
ben sherman

2. mongolian lamb vest
j crew
3. bubble gum cigarettes, remember these?
4.belfast oxfords
wanted
Max from Rushmore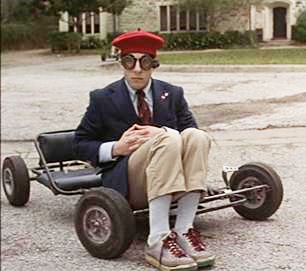 One of the first Wes Anderson films I've seen shown by one of best friends who was rather emotionally attached to the film. Its hard not to be, it does have that quiet awkwardness that we all experience in high school..but Max did have a banging style NO LIE...
as a girl, I want to rock it...
1.textured shruken blazer-
topshop
2.unisex longsleeve chambray shirt-
AA
3.woolen twill minnie pants-
j crew
4.oversized readers-
UO
5. unisex cotton beret-
AA
(ps. I'm loving flood pants for the fall!)
Mrs. Fox, i know like it's a "cartoon" but very good one, I mean we rely some much on the computer these days, Wes decided to make a stop animation film. It should have won the Oscar...what one the Oscar...Up? Okay well..it should have gotten something :)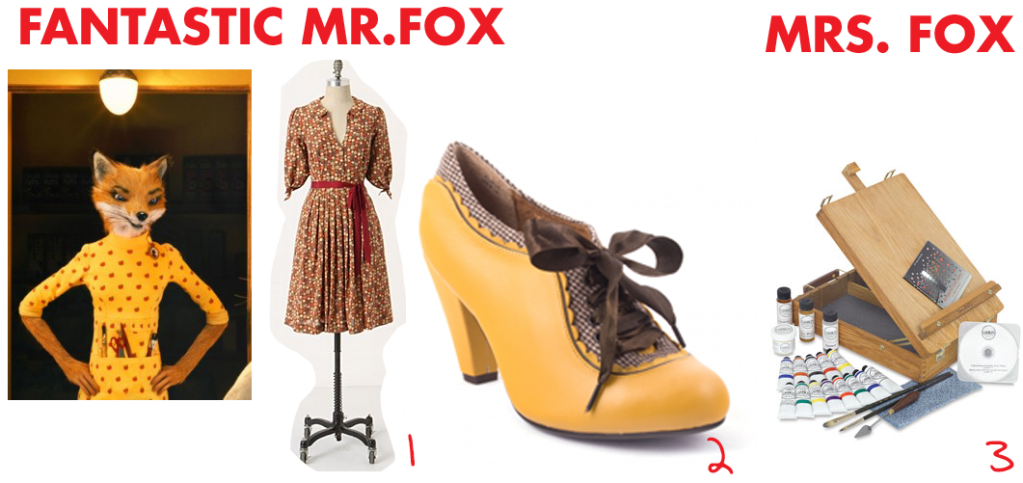 1.sugar -coated shirtdress-
anthropologie
2.poetic license backlash shoes -
irregular choice
(that shoe name is pretty kick a)
3. gamblin deluxe oil painting set -
blicks
Regardless, Mrs. Fox is totally cute in her vintage inspired grab, just throw on some of your own Otaku cat ears and you're good to go. Cause admit...you have some of those ears...don't even lie to me...
speaking of films, anyone excited for the 45th annual Chicago Film Festival...
not even a little?
haha no really I know Chicago comes with its flaws, but they've had some good ones in the past like "brother's bloom" "babel" "good bad weird" and "kamikaze girls" which if you've haven't seen any of these films, PLEASE GO-NOW-WATCH! They are very well made and invoke some great emotional responses...
anyway, I can barely keep both of my eyes open in unison sooo...