(take me to a vintage chicago theatre over a corporate megatron omniplex any day,
you can even see the movie on the marquee!)


Like most of America, I went to see "A Social Network" I urge, plead, and beg you to see this movie, because it's brilliantly written, the cinematography is awesome, and if this story doesn't remind you of shakespeare, it's time to bone up on your shakespeare. Don't be fooled that its some egotistical biopic film...it's just a story about a boy, who loses everything in order to get everything.
This is what I wore: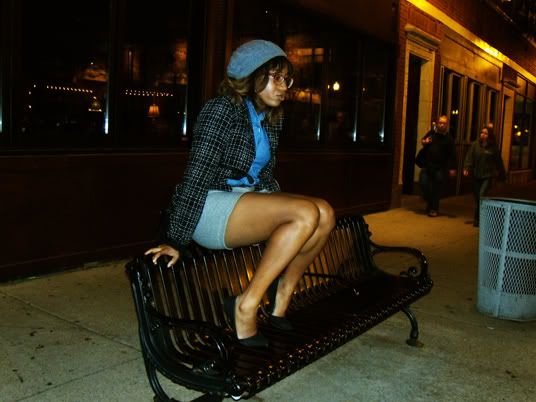 I was thinking all Ivy League-ish..
Tweed Jacket: Thrifted
Denim Shirt: Gifted
Wool Shorts: UO
(first time I bought pants in a LONG time, and guess what 6-5 sizes smaller than I used to be, BELIEVE IT!)
Balled Flats: H&M
Hat w/ Pucca brooch: Thrifted
and yes I am well aware of the largeness of my hips and butt, but trust, even if I wear a size 00 I will always have junk in my trunk,
Just look at this baby picture for proof, haha
I actually like being "womanly", even white boys got to shout..lawls
This is what I ate:
Garbage..lol no
Flub a Dub Chubs
, you think going down 6 sizes would make me go 'nah', but this food is awesome, if you're near the north side, taste and see...
(ps, do you notice my two tone hair? I did it like forever ago but never posted a pic yet...)
The next day:
One of my bestest guy friend's whom I love dearly had a party, I made these...piggies in a blanket, and yes, they're kosher ;) I also made pumpkin cookies, which make AWESOME sunday breakfast, just sayin'
Well that's it. I'll update you on more later but now I'm debating whether or not to face the cold and go to reckless records...but it's so cold! XD
Keep it real ladies...
xo